Digital Transformation of Microfinance Institutions
Participants in this Digital Transformation of Microfinance Institutions Certificate will obtain a thorough understanding of the key ingredients in any pathway toward digital transformation. After this program participants will be able to help guide their organizations through the process of redesigning their relationship with clients and field staff, putting together a digital ecosystem, creating usable data, and putting together agile teams and processes.
The program is designed specifically around the challenges MFIs face when they move from analog to digital systems and how to strengthen their relationships with clients in a digital age.
It offers a greater opportunity to more fully develop assignments and interact with senior faculty and peers around their experiences. Our past participants have always valued very highly this aspect of our programs.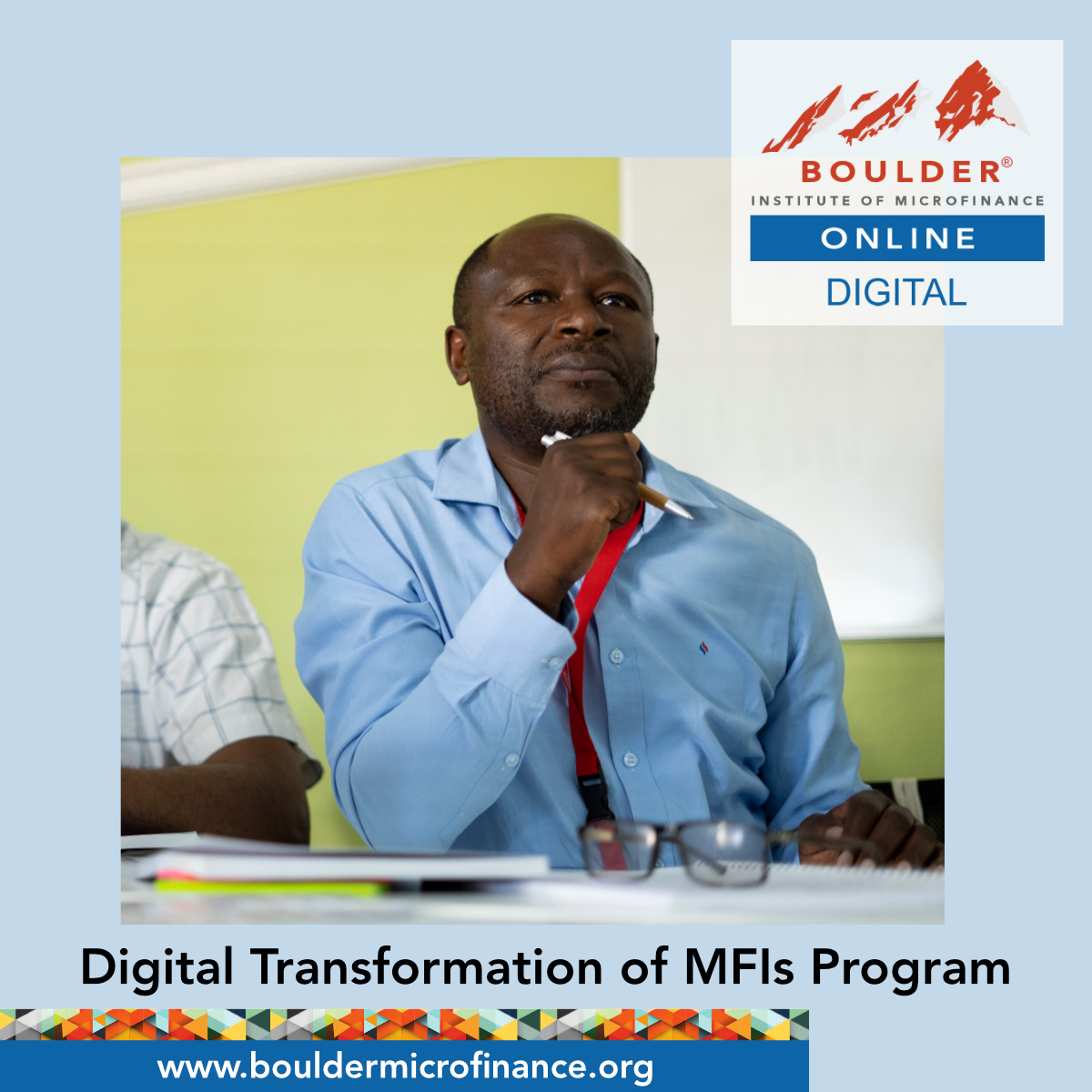 Module 1: State of the sector and our collective response to COVID
Thursday , September 1
Module 1 lays out the critical issues on which we will focus for the duration of the program. To get a sense for how digitalization initiatives have played out in practice, we will review the sector's experience over the past 36 months as represented in global surveys of digitalization initiative in financial inclusion.
Module 2: The digital ecosystem
Thursday, September 8
Module 2 centers on the design issues around creating digital innovations while at the same time running a business-as-usual analog environment. We will discuss the use of the latest design approaches such as 'Agile' and how to build and manage teams that must function in an integrated manner with traditional legacy systems and their related processes and staff.
Module 3: Planning a digitalization strategy
Thursday, September 15
Module 3 will present the fundamentals for planning for digital transformation, including the use of tools such as the business canvas that allows organizations to generate clarity around who are their clients, what are their channels, products, and processes, among several other categories for strategic analysis. The focus will be on business imperatives such as increasing income through enhanced services.
Module 4: Segmentation of clients and data analytics
Thursday, September 22
Module 4 provides an overview of the opportunity for MFIs and regulators to use data to drive financial inclusion and improve business results. We will explore the use of data in three broad applications, improving operational management, a better understanding of clients through segmentation and predictive modeling, for example, credit scoring, generating an intensified, personalized, and highly connected relationship between field staff and clients.
Module 5: Digitalizing products and services
Thursday, September 29
Module 5 will expose participants to the adjustments that are necessary to produce quick wins in the digitalization process and add revenue and goodwill into a broader institutional strategy through the adjustment of traditional products or the development of new methods for providing financial service, especially in the face of the impact of COVID or increased competition from digital only providers.
Module 6: Building digital payments systems through partnerships
Thursday, October 6
Module 6 is about the trends and forces that are shaping our new digital world and how we can situate ourselves in that landscape through partnerships as microfinance institutions assess new threats, re-evaluate their capabilities, reinvent themselves, imagine new models and rethink their partnership approaches in a way that protects their market position, and sometimes even gives them a competitive edge.
Module 7: Cyber security
Thursday, October 13
Module 7 examines the key types of risks that MFIs face when they adopt digital technologies. We examine and discuss the key developments in customer onboarding, privacy, and protection, as well as in cybersecurity, AML, digital identity through API's, and fraud. Customer needs are rapidly evolving while new entrants and digital technologies are bringing both increasing complexity and new value propositions to the market daily. It is imperative that MFIs do not underestimate the importance and challenges of privacy, security, and protection in their drive to keep up.
Module 8: Managing an 'Agile' design process
Thursday, October 20
Module 8 lays out the design fundamentals to create the capacity to respond quickly to ever changing markets, the impact of restrictions we saw from policies enacted by governments, and the evolution in our clients. We will look at how to run 'AGILE' processes alongside traditional business-as-usual legacy systems to obtain optimal outcomes.
Module 9: Structuring Digital Transformation initiatives
Thursday, October 27
Module 9 looks at the structuring of the human element associated with the change brought about by digital projects and digital transformation journeys. We will explore the critical elements for success as revealed by two case studies of major US corporation's digital transformation journeys.
Module 10: Creating an innovative company
Thursday, November 3
Module 10 shows participants the art of generating an innovative organization, capable of growing exponentially through constant adaptation to changing and competitive markets, the evolving needs of our clients, and the evolution of our own staff.
Faculty
Boulder Institute programs bring together faculty that include some of the most noted leaders in the field of microfinance to engage microfinance professionals in learning about innovative issues, core principles, and the latest techniques for providing access to financial services for the world's poor.
Faculty bios
This Program will be led by Robert Christen with invited senior faculty who will drive the content and activities of each Module.

FORMAT AND LOGISTICS
The program consists of a total of 10 Modules, all of which include live session plenaries with renowned faculty & guests. It also features self-guided work, which includes readings, assignments, group sessions, quizzes, forums, and more. These self-guided activities take place on our E-Campus, based on Moodle platform.
The program will last 12 weeks with a total of 65 hours of participant engagement. The cost is USD$2,400.
Program participants meet online for a 2-hour Live Session every Thursday, from 2PM to 4PM GMT and are expected to complete 3-5 additional hours of Self-Guided Work. Senior faculty will be available on Chat or live on some weekdays at designated hours they will set individually.
Registration is open until the official registration deadline on August 31st. The Welcoming Session will be on September 1st, and the official Graduation Ceremony will be on November 17th.
Language: English
Format: 12 weeks
Start Date: September 1, 2022
End Date: November 17, 2022
Engagement hours: 65
Cost: US $2,400

PROGRAM SCHEDULE
| | | |
| --- | --- | --- |
| Registration Deadline | August 31 | Must have submitted the registration form and paid the tuition. |
| Introductory Session | September 1 | Introductory Live Session from 2pm to 4pm GMT to familiarize participants with the ONLINE Campus |
| Self – Guided Work | September 1 – November 10 | Work on the materials on the student portal (Boulder Online Campus) for an estimated 3 – 5 hours per week |
| Live Sessions | September 8 – November 10 | Meet every Thursday online from 2pm to 4pm GMT |
| Graduation Ceremony | November 17 | Special live session for the online ceremony on Thursday, November 17 from 2pm to 3 pm GMT |