Microfinance Training Program
Microfinance Training Program (MFT) engages participants with thought provoking readings, exercises, and group work to equip them with practical tools and strategies to confront challenging times and prepare for a post-COVID future.
Participants in this MFT Certificate Program will obtain a thorough understanding of the strategies MFIs have used to segment clients and respond to their circumstances. We will look at tactical and strategic responses in the areas of product design, HR, portfolio, and financial management. These will help MFIs explore the practical and ethical dilemmas we face while balancing our need to support our clients while at the same time ensuring our long-term sustainability.
The program consists of a total of 10 Modules, all of which include live session plenaries with renowned faculty & guests. It also features self-guided work, which includes readings, assignments, group sessions, quizzes, forums, and more. These self-guided activities take place on our E-Campus, based on Moodle platform.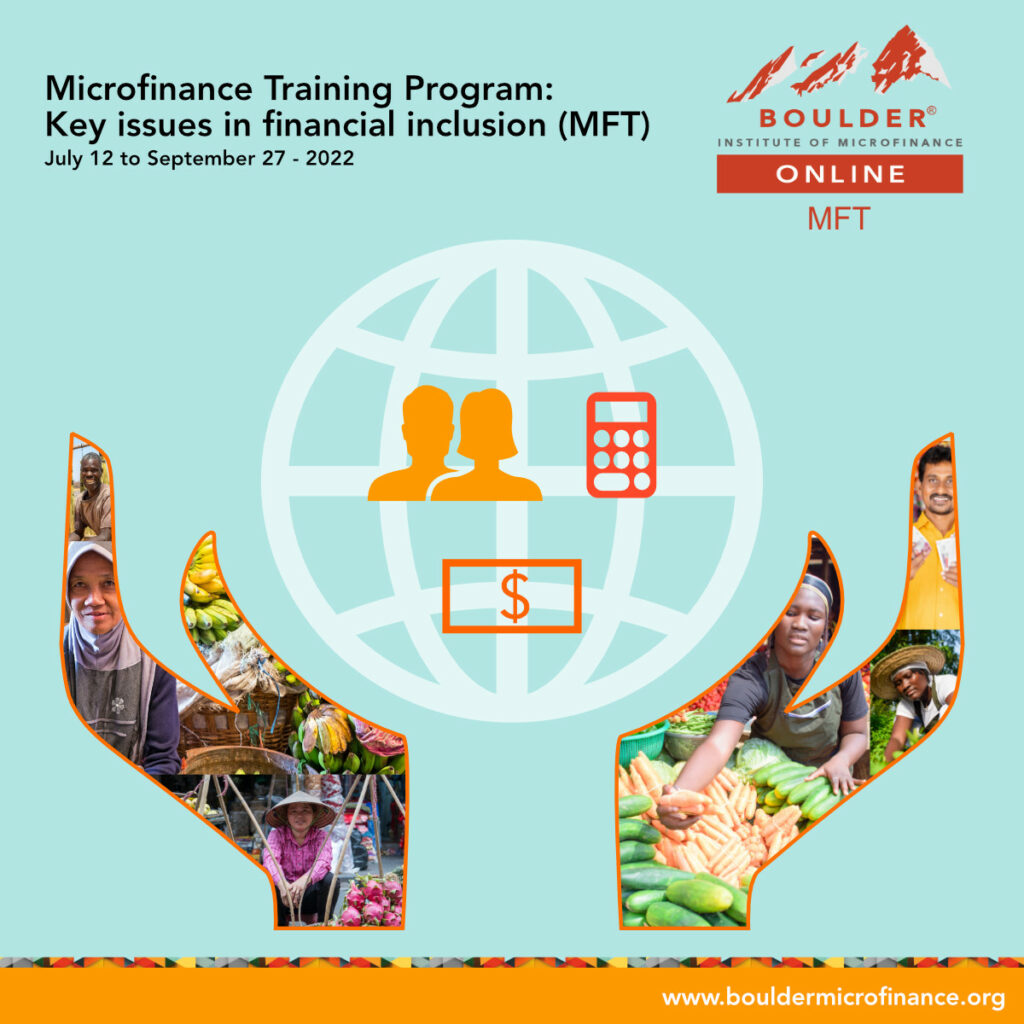 Module 1: State of the sector and our collective response to COVID
This module lays out the critical issues we will be focusing on for the duration of the program, distilling the lessons learned throughout the COVID Pandemic by the 20 authors who submitted short articles reflecting on the experiences of leading MFIs with whom they have worked quite closely. These articles were published on our Boulder Community Corner. And, we will be joined by senior experts from the World Bank Group who will share their findings from global surveys they have recently finished on the state of the sector.
Module 2: Managing Performance During Times Of Stress (Part I)
Should a financial institution aim for social results? Should an institution with a social mission be profitable? Can an MFI achieve financial and social performance at the same time?
In the last few years, such discussions have triggered a need for a deeper analysis on MFIs' governance structures and their capacity to find the right balance between financial and social goals. Similarly, the lessons learned from the crises experienced by several microfinance markets in the past have urged the systematic assessment of social performance management and responsible practices when assessing the long-term viability of MFIs.
This module focuses on how to interpret the main components of an MFI's financial and social performance, but also on whether the two can be compatible with each other. This discussion is especially relevant during times of stress, as we have been experiencing globally since the beginning of 2020
Module 3: Managing Performance During Times Of Stress (Part II)
This Module looks at the diverse and complex problems associated with the impact of the COVID pandemic on portfolio quality, interest rates, and government led policies of debt forgiveness against the backdrop of consumer protection, and the desire of many of our clients to keep current with their loan payments and continue having access to renewed loans. The Module looks at the ethical dimensions of these trade-offs.
Module 4: Planning for the strategic adjustment
Module 4 introduces three practical tools that MFIs can use to assess the scope, impact, and priority of their strategic initiatives: Business Model Canvas, Digital Foundation, and Digital Initiative Scorecard. These are key to successfully traversing the fundamental shifts in strategic direction that have arisen out of the COVID-19 pandemic.
Module 5: Client – centricity: the key to exponential growth
Evidence suggests that client centricity is central to the emerging business model inclusive of digital transformation and driving meaningful financial inclusion and addressing these challenges. Join us on a journey where we design digital finance solutions following a customer-centric approach. The course will explore how an FSP can facilitate higher activity and retention rates and thus higher usage of its products. Targeted at practitioners (FSPs) and technical service providers that support FSPs the course will address the customer and business challenges in financial inclusion, particularly illustrating digital solutions.
Module 6: Clients: Segmentation and data analytics
This Module is devoted to the use of two free public domain data sources, available across many countries and show how these can be used to get ideas about how different types of potential customers live their lives and about what shapes their use of finance. We call the resulting profile a 'persona'. You'll get a chance to use a Microsoft Excel Workbook to find out a lot of hidden details about the sort of people, 'Personas', who do use microfinance and then compare this to the lives of the sort of people who might need microfinance but are not yet accessing it.
Module 7: Clients: Human centered design
This module focuses on the use of qualitative data. The module gives a quick introduction to Human Centered Design (HCD) and demonstrates how HCD tools can be useful in stimulating innovating ideas. Participants will test the use of these tools by undertaking field work on a Persona of their choice. Participants will use the Personas developed in Module 4, identify people within their reach who fit the Persona profile and conduct interviews. With the support of the facilitator and the videos, participants will synthesize data collected, pull insights and emerging themes, and convert these insights into product ideas. Participants will learn through practice how to utilize HCD approach to design innovative solutions for customers.
Module 8: Managing risk in a digitalizing environment
The goal of this module is to develop an understanding of the key types of risks that MFIs face with the adoption of digital technologies, while at the same time, tending to business as usual. We will examine and discuss the key developments and issues in customer onboarding, privacy, and protection, as well as in cybersecurity, AML and fraud. With this foundational understanding, we will explore the risks and opportunities presented by new digital technologies from digital identity through API's.
Module 9: Leading transformative change
This module will look at the impact of the pandemic on microfinance institutions–especially the staff and Human Resources that are so crucially important for our success. We will explore several topics, including among others: (i) Impact of COVID-19 on MFIs and their employees; (ii) Psychology of change; (iii) Steps taken by MFIs to ensure the health and safety of their staff members while maintaining operations; (iv) Staff incentives in both normal and COVID times; and (v) Impact of COVID-triggered digitization.
Module 10: Looking forward in a competitive world
This Module discusses the way that the financial sector landscape is rapidly changing with the rise of disruptive innovators, digitization, and big data technology that spur competition and bring complexity to the sector, while also providing opportunities for creative partnerships between traditional microfinance providers and new entrants. These new partnerships have the potential to both enhance financial services and reduce operational costs. COVID-19 has accelerated these trends, as digital delivery of financial services offers the potential to manage COVID-19-related risks, maintain operations and provide uninterrupted services, support customer ability to transact during lockdowns, and minimize in-person interactions. Looking forward, successful providers will be those that effectively deploy appropriate technologies across channels, products, and processes, to make current offerings more accessible and efficient, to better manage risk, and to develop new business models.
Faculty
Boulder Institute programs bring together faculty that include some of the most noted leaders in the field of microfinance to engage microfinance professionals in learning about innovative issues, core principles, and the latest techniques for providing access to financial services for the world's poor.
Faculty bios
This Program will be led by Robert Christen with invited senior faculty who will drive the content and activities of each Module.